Secure.
Faster.
More Reliable.
A bespoke Wordpress hosting experience, backed by Wordpress experts.
Explore Pricing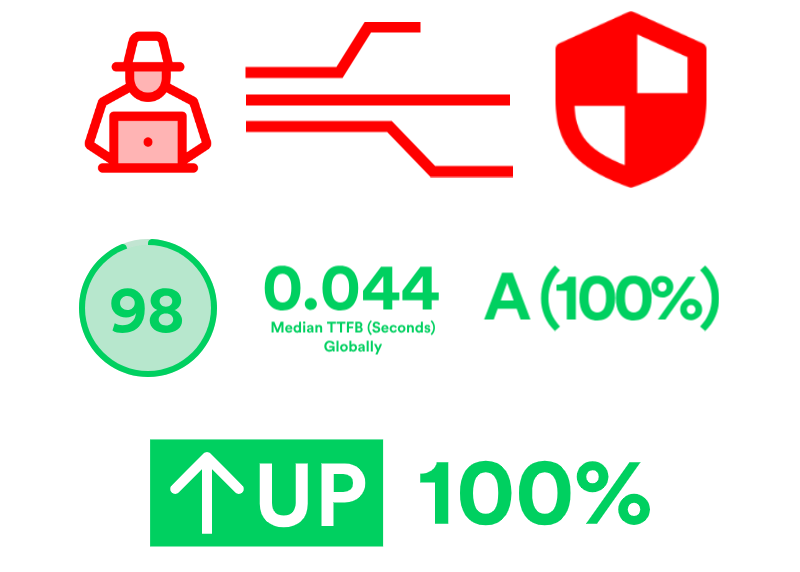 This could be your website
Soar to New Highs
Scale to Millions
Featured on Forbes?
No Problem.
Our proprietary, award-winning caching engine uses full-stack caching to deliver websites instantly around the globe.

SmartPurge will refresh caches when content is changed

Scale to 10,000's of requests in seconds

3-layer cache stack with 95%+ hit ratios
Learn More
Protect Your Site
DDoS Protection
65 Tbps of capacity for automated DDoS mitigation for network and application layer attacks
Brute Force Protection
Brute-force protection and rate-limiting against vulnerable endpoints like wp-login.php or xmlrpc.php
Web Application Firewall
Real-time WAF for XSS, SQLi, RFi, and other advanced attacks against vulnerable systems
Malware Defense
Malware, rootkit, and backdoor protection, detection, and remediation
WordPress Hardening
Harden WordPress files, tables, users, uploads and settings automatically with one-click
24/7 Network Monitoring
We monitor, find, and stop attackers manually when they slip through automated systems
Learn More
Ultra-Fast Stack
Fully integrated caching with Wordpress, exposed via API
On-the-fly Site Optimization
Brotili, HTTP/2, Intelligent query string handling, we've got it all
Automated Backups
Automated offsite backups, and file-level restores
User-Friendly Panel
Plesk-based panel, fully equipped with SSL, a file manager, and subuser accounts
Five-Nine Uptime SLA
Auto-healing infrastructure, monitored 24/7
Enterprise-Grade Security
Application-layer firewalls, brute force, traffic anomaly and DDoS protection
Built for Speed
Here's how it works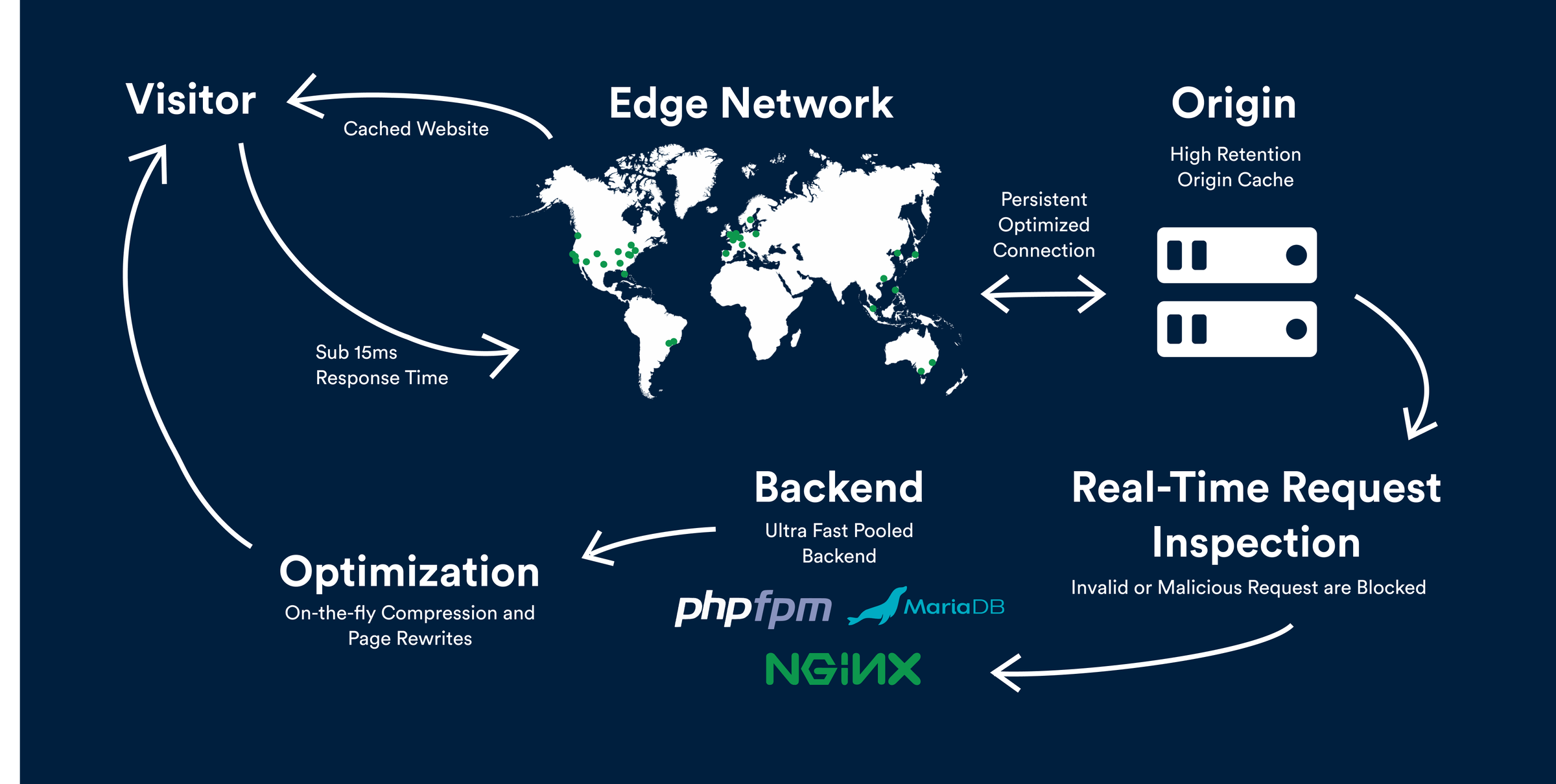 Pricing
We're faster or your money back
20 GB SSD Storage
50 GB Bandwidth

This is a recommendation, not a limit. Your site may need more or less resources.

45k Views/Month
1 Domain
Premium CDN

50 GB SSD Storage
200 GB Bandwidth

This is a recommendation, not a limit. Your site may need more or less resources.

160k Views/Month
3 Domains
Premium CDN

80 GB SSD Storage
450 GB Bandwidth

This is a recommendation, not a limit. Your site may need more or less resources.

400k Views/Month
10 Domains
Premium CDN

Custom

Need more or something in-between?

Starts at $25/month
Limitless Disk & Bandwidth
SLA Agreement
Ultra Priority Support
Millions of Visits
WAF at the Edge

Custom Pricing

We'll reach out to you very shortly to discuss your site.
Comprehensive Feature List
Scaling
Instantly scale to traffic spikes, uncached or cached
Dynamic Computing
We dynamically allocate CPU and RAM as needed for your site to scale
SmartPurge
Automated cache purge and refetch built into WordPress
Caching
Multi-layered, proprietary, caching engine automatically integrated and API exposed
Premium CDN
Global CDN w/ over 40+ PoPs, integrated directly into our platform
Anycast DNS
Globally distributed anycast DNS network for ultra-fast domain resolution.
Performance Stack
Ultra fast, performance-tuned PHP, MySQL, and NGINX stack
Compression
Brotli compression w/ up to 50% higher compression ratios
WAF
Block SQL, XSS, RFi, LFi, brute force, WordPress zero-day attacks, and more
DDoS Protection
On-demand and automated traffic screening and DDoS protection
WP Hardening
One-click WordPress hardening to secure your site
Filesystem Isolation
In-house isolated, virtual filesystem for website processes
Hack-Fix Guarantee
If you're hacked on our platform, we'll fix it for free
Malware Scanning
Automated periodic server-side malware detection
2FA and SSL
2-factor authentication and SSL (https) by default
Real-Time Threat Analysis
Synchronized blocklists across tens of thousands of servers
Managed Rate Limits
Brute-force protection for wp-login.php, xmlrpc.php, and custom endpoints
Self-Healing
Failed services and requests are automatically retried and restarted
Backups
Fully-automated onsite and offsite backups, file-level restores, and manual snapshots
Caching Failover
Pages will be served directly from cache should the origin backend fail
24/7 Monitored
24/7 monitoring of all stack components as well as individual sites for any errors
Page Rules
Block traffic, create redirects, and deploy other rules directly to our CDN
Free Migrations
Free migrations from any host with zero downtime
Access Delegation
Delegate access to one, or more sites to another user
Analytics
View bandwidth and request analytics for both edge and origin requests
Expert Support
Support from WordPress experts when you need it
Staging Environment
Create a copy of your live site, and merge changes as needed
All-in-One Panel
Manage your files, databases, WP plugin updates, users, and more in one place